Conference venue

The EGU Galileo conference "The Anatomy of Abrupt Climate Change: Dissecting the Palaeo-record to Trace the Mechanisms of Climate Variability" will take place in the amazing scenery of the small medieval town of Gniew. The town and its castle were founded by the Crusaders in the second half of the XIII century, are situated in a picturesque valley of the Vistula river.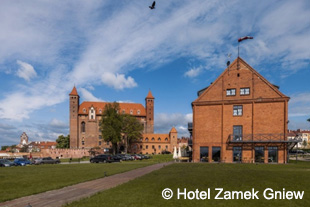 The meeting and all accommodation will be at the hotel Zamek Gniew (ul. Zamkowa 3, 83-140 Gniew, Poland), on the banks of the Vistula River.
Planning your journey
Please aim to arrive at the venue in time for the opening reception (including our first keynote lecture) at 18:00 on Monday, 27 August. If you do not choose to join Friday's post-conference fieldtrip, you should plan your departure from Gniew for the morning of Friday, 31 August. If you wish to arrive earlier, or stay longer, at the venue, you will need to contact the hotel directly, to arrange the additional days.
Travel options
Coach connection: a coach connection will be provided to / from Gdansk airport, for no cost to conference participants. The coach will leave Gdansk airport at 16:00 (promptly!) on Monday, 27 August. Another coach will depart to return to Gdansk airport at 09:00 on Friday, 31 August. The connection from Gdansk airport to the city centre is simple, so if you are arriving in Gdansk by another means, you may choose to join the coach. You will need to opt-in for the coach journey in advance with your conference registration, so that the LOC can ensure there are enough seats.
By car: Regardless of the direction you travel from, for the last part of your journey you take the motorway A1 (E75) and then you leave it for road nr 229 and 91, which leads you to Gniew. For exact driving directions, enter the hotel's address into your GPS system.

Hotel Zamek Gniew is only about an hour of drive from Gdansk Airport of Lech Walesa (79 km).

Hotel Zamek Gniew is about 1h 40 min drive from Bydgoszcz Airport (117 km).

By train: There are trains from Gdansk Airport, however you need to change on a way from the airport once or twice, depending on the connection and you end up in a small village of Pelplin (16 km away from Gniew), Kulice (13 km away from Gniew) or Morzeszczyn (10 km away from Gniew – and you need to pronounce the name!). Cost: ca. 16-20 PLN (€3.50-€4.50). From those stations you need to take local bus or taxi. There are also direct trains to these villages from Bydgoszcz. Cost: 30 PLN (ca. €7.00).
By bus: There are plenty of direct busses from Gdansk to Gniew. Cost: ca. 16 PLN (€3.50–€4.00). They all leave from the PKS Main Station; to which you can get from the airport using the direct train connection called "SKM".